Today I will show you how to install the most popular application on smart tv call IPTV Smarters URL. This app is free and available on LG smart tv store and Samsung smart tv store. This application supports EPG as well as Pistons and grouping channel. It is very easy to set up too.
You need:

– A smart tv connected to the internet
– An account with Firestick Subs. If you don't have an account yet you can register to get a 72 hours free trial
Step by step to get IPTV on Smart Tv
This tutorial is made from an LG Smart TV but should be the same process as on a Samsung TV.
Step 1: Installing the application Smart IPTV on Smart TV

There are 2 ways to install the application, either directly from the LG Store -which is the simplest way- or via a USB Drive for some models.
Installing from the LG store:
2-  Start Application
Start the application, The screenshot below shows the IPTV interface. What we are interested in for now is the MAC address of the Smart IPTV.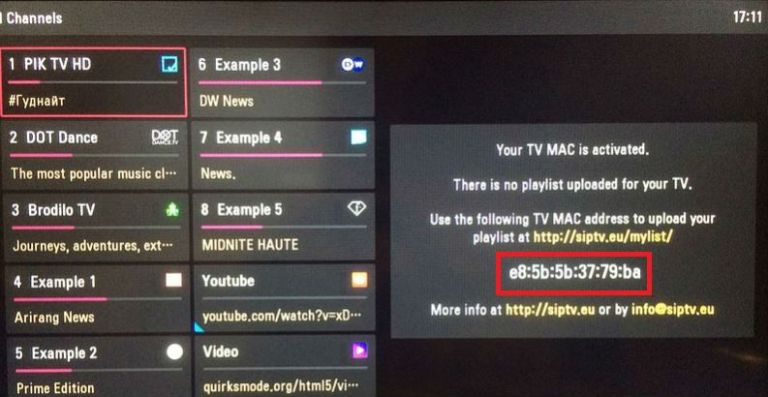 ** If your app is not activated you will be required to purchase to activate for One-time charge**
3- Configuring the application
To use your Firesticksubs streams, you should visit this page:
http://siptv.eu/mylist/
Smart iptv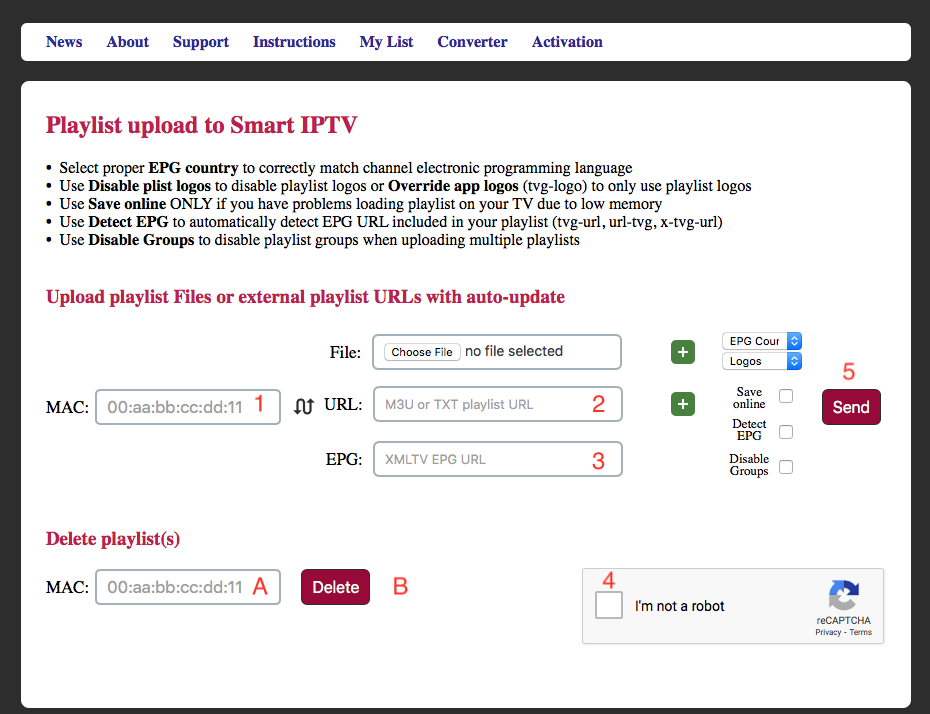 1. Enter the MAC address of your Smart IPTV.
2. Enter M3U that you received from FIRESTICKSUBS.com (or resellers) for this field
3. Enter EPG that you received from FIRESTICKSUBS.com (or resellers) for this field
4. Check "I'm not a Robot"
5. Tap Send.
A. If you want to delete your playlist enter MAC address of your Smart IPTV.
B. Tab Delete.
4- Watch and Enjoy
Restart the Smart IPTV app in order to make the changes we just made.
You should now be able to see the channels list.
Warning: If you have Samsung smart tv you will notice that Samsung remove Smart IPTV from Samsung store.
If you already have purchased IPTV service and installed it on your Samsung smart tv, you need to Disable Auto-update feature of this app or install Smart IPTV app via USB.

Disable Auto-update
Follow the steps below to stop auto update on your SAMSUNG TV
1.Go to Settings.
2. Select Support.
3. Select Software Update.
4. Select Auto Update.
5. Select OFF
Install SIPTV app Manually via USB
1. Download smart IPTV app ( https://download1340.mediafire.com/lbkln4cypyzg/bwwq7b0go3dwp5h/USB+SmartIPTV+Files.zip )
2. Extract and place on the ROOT of your USB Stick
3. Place in your SAMSUNG TV USB slot
4. Power your TV
5. Wait for the application will install
Enjoy!
Many devices can use IPTV services…
If you use IPTV Smarters, VLC, Smart IPTV, Apple TV, iPhone … then need to use Streamline M3U file option. If you do not already have an account to use IPTV, please sign up for a 72h trial or contact us for the best support.
Please select the right device you use in the account registration, M3U file and EPG file will be sent to your email immediately after registration.…
If you are using a MAG or STBEmu Application using a MAC address, you need to send us your MAC address with the standard syntax of 6 pairs of digits and a colon.
If you enter the wrong MAC address then your device will not be able to work, if you have trouble or the device does not work please contact us immediately, your problem will be resolved.
Contact us for more information
If you have any questions or problem during this process contact us or just comment on this post we will help you out.
Our details can be found below.
Email: contact@firesticksubs.com
Signal: +31 68-304-6885